Kerala Start Up Mission Research and Development Grant awarded
Fostering Innovation
Recognition comes in the form of the Kerala Start-Up Mission Research and Development Grant, a testament to our commitment to innovation. This grant empowers us to indigenously develop hardware and software for Filament Winding and Automatic Fiber Placement robots, strengthening our journey of pushing technological frontiers.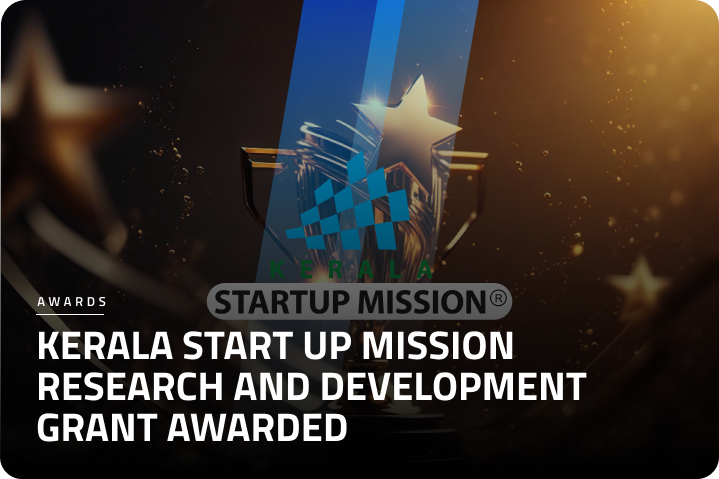 First Round Angel Investment
Fueling Innovation
We're thrilled to announce our successful first round of external Angel investment. Mr. Faiz Mohammed Haneef, CEO of Neoito Technologies Private Limited, believes in our strategic product development and has invested in our company. This milestone amplifies our commitment to pushing boundaries and transforming industries.
Technology Development Fund Granted
Redefining Possibilities
We proudly stand as winners in the category of 'Development of Robotic Arm for Scooping/Machining of cured solid Propellant (Shore 'A' Hardness≥70)' in DRDO Dare to Dream 2.0. Our innovative solution for a propellant machining robot showcases our commitment to pioneering advancements, and shaping the future of technology.
DRDO Dare to Dream 2019 : First Prize
Engineering Excellence
Our quadrupedal-legged robot clinched the first prize in DRDO Dare to Dream 2019's multi-leg walker category. Designed for aerospace surface inspection, its digital twin and innovative approach secured victory, reflecting our dedication to cutting-edge solutions and engineering prowess.
Atal Innovation Mission: ANIC-ARISE Grant
Shaping Tomorrow
Our selection for the ANIC-ARISE Grant as part of the Atmanirbhar India Challenge 2021 celebrates our innovative approach to Composite Panel Inspection using Robotics and Thermography Non-Destructive Testing. This recognition reinforces our commitment to pioneering solutions that contribute to India's technological growth.
Finalists for IDEX DISC I and DISC III
Shaping Future Solutions
We're proud to be selected as finalists for IDEX DISC I and DISC III, showcasing our prowess in innovation. Our development of a desktop filament winding machine and a marine satellite antenna concept demonstrates our commitment to pushing technological boundaries and creating impactful solutions for the future.

Kerala Startup Mission : Productization grant awarded for Robotics and Machine Development (2020)
Fostering Innovation
Being recognized by Kerala Startup Mission for the Productization Grant in 2020 is a testament to our commitment to innovation. This grant further propels our endeavors in Robotics and Machine Development, strengthening our mission to create cutting-edge solutions that transform industries.
Our Services
View a List of our services and Products
Filament Winding Solutions
Explore our state-of-the-art Filament Winding Machine, Software, and Services. Craft precision composite components with unmatched strength and efficiency.
Composite Engineering
Harness the power of our Composite Engineering services. From design to analysis, we create tailored composite solutions that redefine performance.
Automated Robotics Solutions
Revolutionize your industry with our advanced Automated Robotics solutions. Experience efficient automation tailored to your unique manufacturing needs.
Testimonials
Happy Client Reviews
Composite Engineering Solutions takes my practical ideas and elevates them with cutting-edge tech. It's not just engineering; it's pure excitement and innovation

The team at Vashishtha isn't just about products; they're about practical solutions. They delivered exceptional results, I'm beyond grateful to the Vashishtha team!

Filament winding services at Vashishtha are top-notch. Precision and quality can't be beat. Perfect for my robotics projects and innovative applications

Thanks to Vashishtha, carbon fiber Composite engineering solutions have helped me in practical, high-performance applications. I can't imagine my projects without it
These achievements represent our journey of innovation, collaboration, and determination. Have questions or want to know more? Reach out and let's connect.
Visit Us
Robotics Lab,
Aerospace Department
Indian Institute of Space Science and Technology,
Valiamala, Thiruvananthapuram- 695547
Kerala, India
Email Us
vashishtha.research@gmail.com